Dinosaur fans get crafty!
Download our free template
The mighty Triceratops stomped around on earth over 80 million years ago, with not one but three powerful horns to protect it from hungry meat-eaters. They also had close to 800 teeth and the biggest head of any land animal ever discovered! Triceratops fans will love transforming into their favourite dino with this easy headpiece to make at home.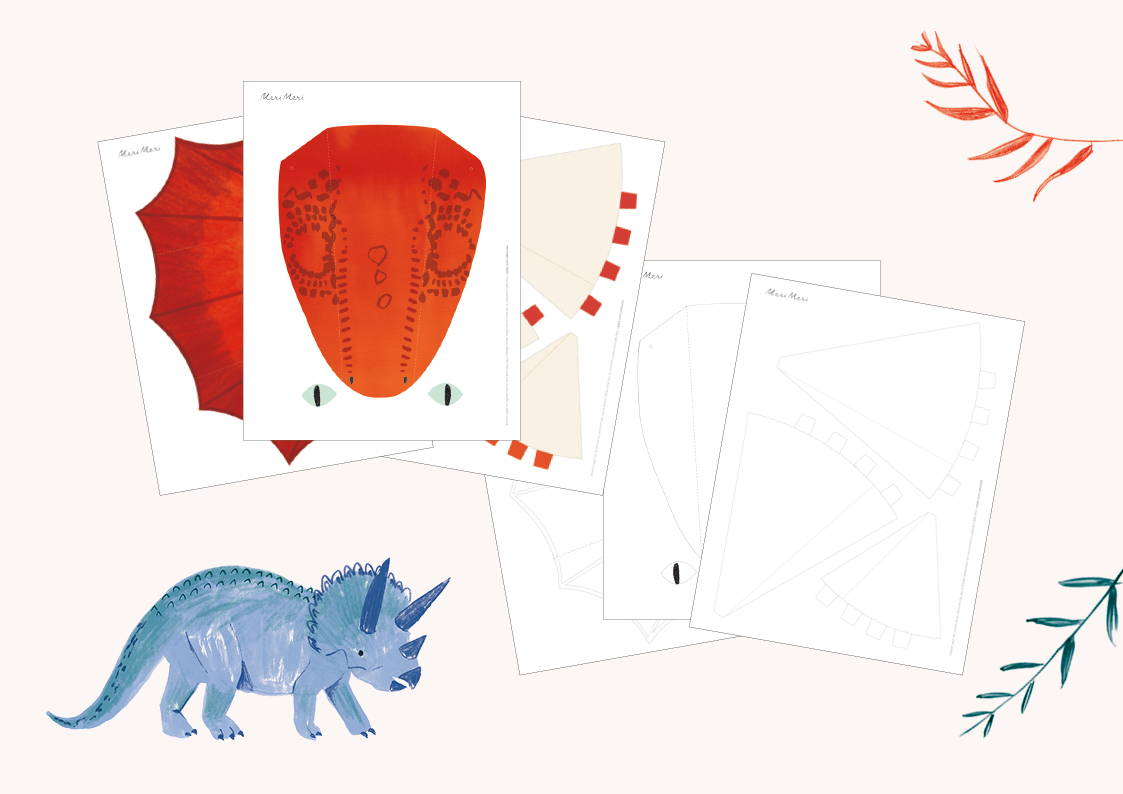 Simply print out and follow our instructions for hours of roar-some fun.
You will Need:

Printer
Paper or thin card
Scissors
Glue
Tape
Piece of elastic cord (45cm long)
Ruler and paper scoring tool (optional)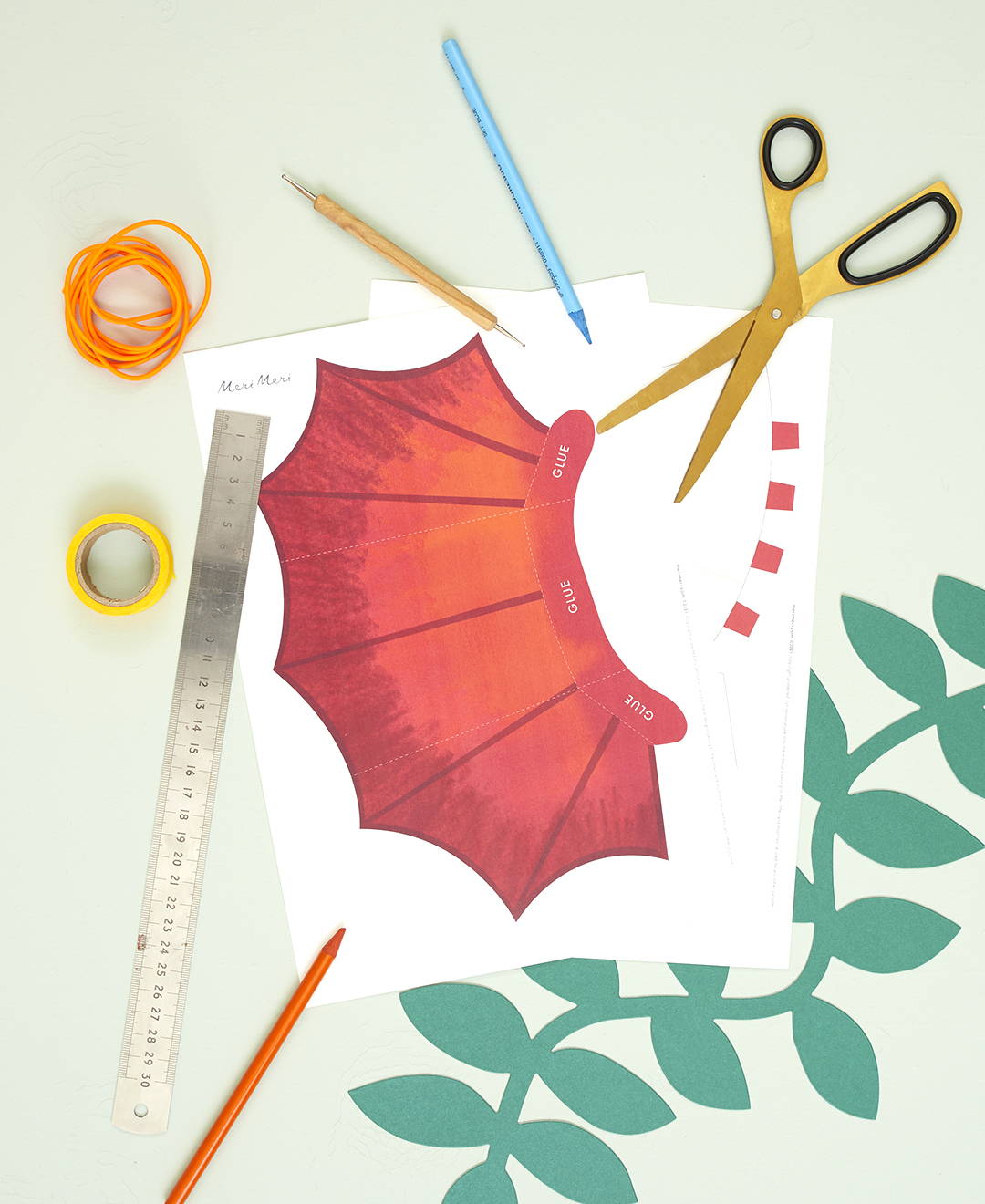 Instructions:

Step 1.
Cut out all of the pieces. Stick the face onto the top of the head by applying glue to the areas indicated. Use the dashed lines to help you line up the two pieces.

Step 2.
Lay a ruler along the dashed lines and use a paper scoring tool to crease the paper. You can also use the tool to punch out the holes in the sides of the head for the elastic cord. (This step is optional, but it will make your headpiece much easier to fold and give a crisp finish).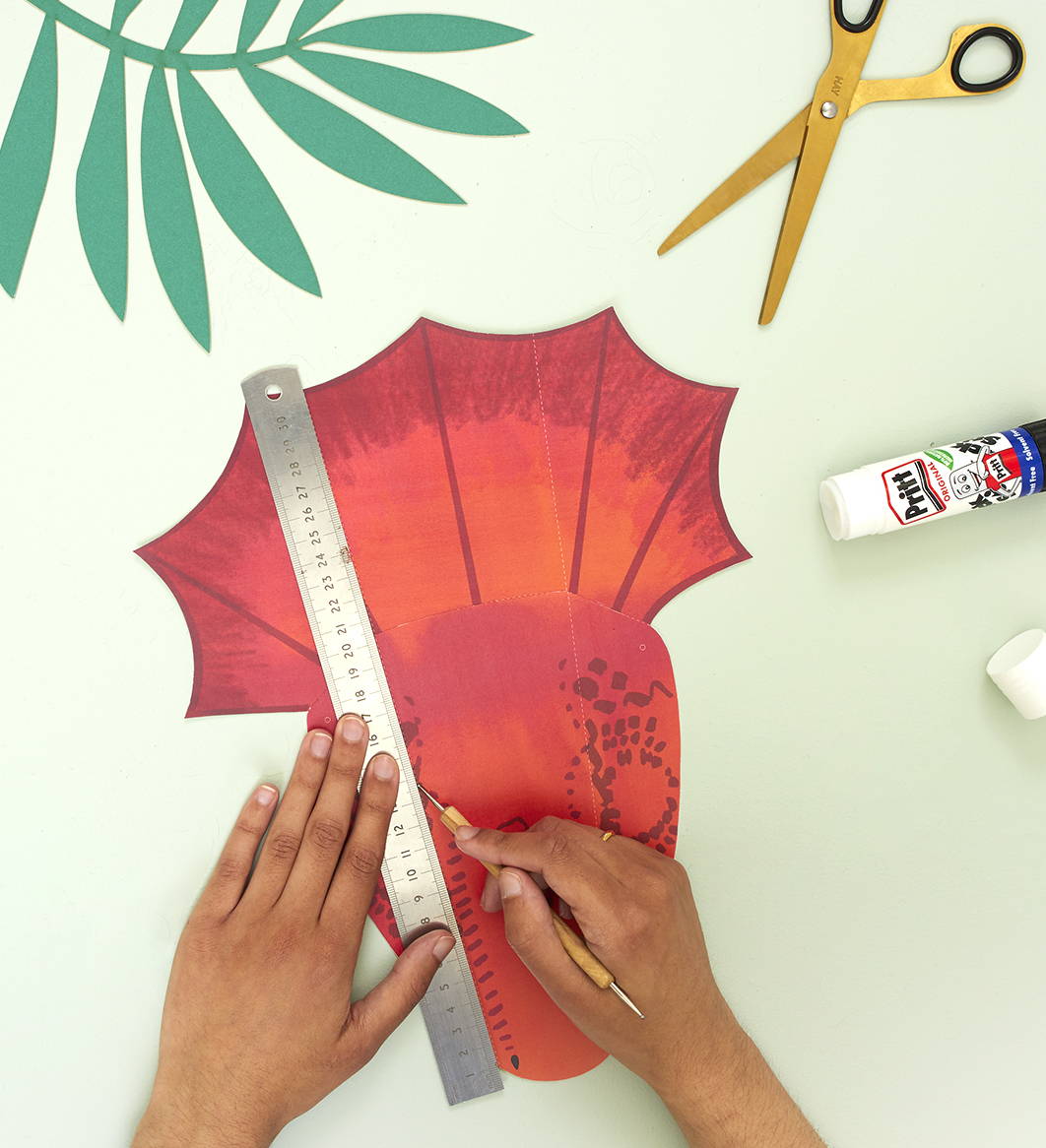 Step 3.
Time to fold. Start by folding the top of the head, with the folds pointing downwards. Next fold the sides of the face, with the folds pointing upwards. The spines should now pop up.

Step 4.
Glue the eyes onto either side of the head.

Step 5.
Roll the horns into cone shapes. It's quite fiddly, but easier to roll them tightly to begin with so the paper is curving in the right direction. Tape the top of the horn (or the point of the cone) into position first. Use the printed line as a guide for the edge of the paper. Tape the base of the cone into position second, and fold the tabs outwards.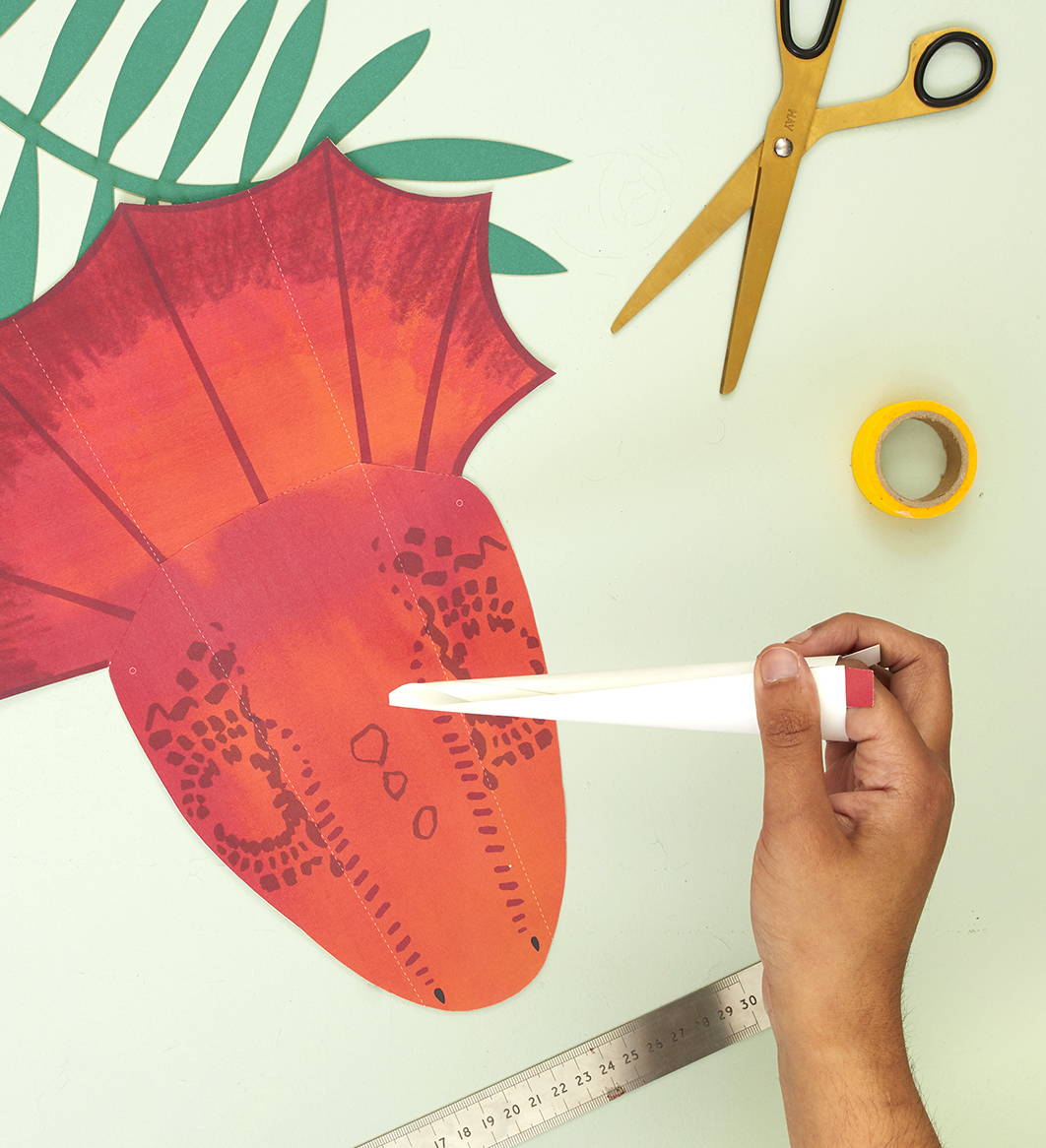 Step 6.
Put glue on the underside of the tabs and stick the horns onto the headpiece. Your triceratops will have two large horns at the top and one little horn just above the nostrils.

Step 7.
Finally, add a piece of elastic cord to fit the headpiece to your head. We have found 45cm to be a comfortable size for most children. A top tip is to thread the cord front to back, so the knots are hidden on the back of the headpiece.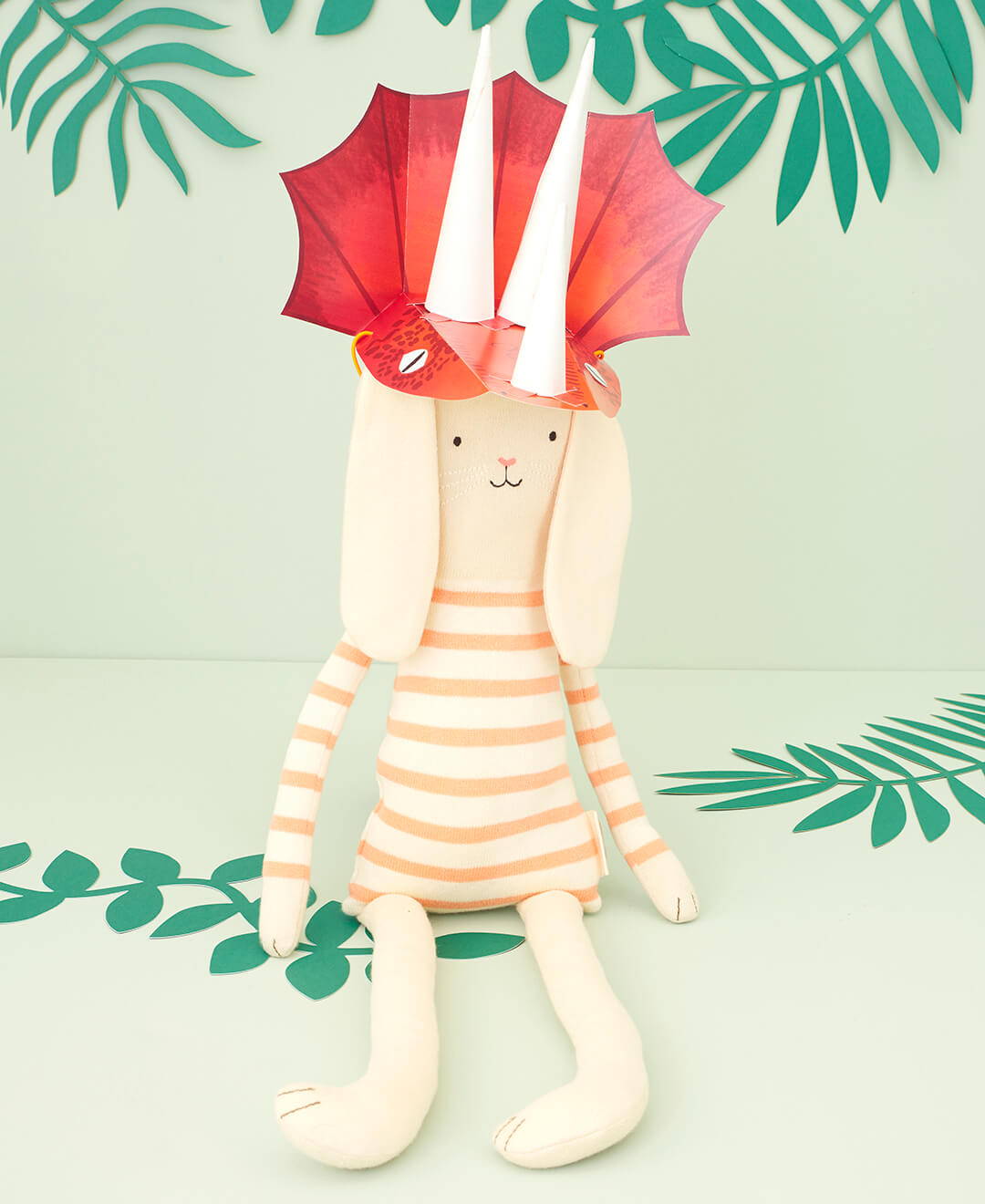 Made the headpiece? Time to party!
Wear your headpiece to a dino-themed celebration with Jurassic treats and décor from our Dinosaur Party Collection.
Kids love challenging memory games, especially for at home fun. Parents will be pleased to know they can also help improve attention, concentration and focus – all whilst providing enjoyment! Our talented Meri Meri studio have beautifully designed two sets of memory cards for your kids – delightful dinosaurs and magical unicorns. READ MORE >