Peter Rabbit, and pals make fabulous friends for an Easter party. The classic illustrated stories by Beatrix Potter are loved by kids and adults alike. Here are 8 fun facts about naughty Peter, and his creator, we just have to share with you.
1. Peter is World Famous

Translated into 36 languages, Beatrix Potter's 23 tales are adored the world over. Since Penguin Books acquired Frederick Warne & Co in 1983 more than 150 million copies have been sold – that's 4 books every minute! The Tale of Peter Rabbit has sold 45 million and is the first and most popular of Beatrix's tales.
2. Peter Rabbit was Real

Beatrix had a deep love of animals and nature, and perfected her illustrative style drawing her pets. She had a rabbit named Peter Piper who accompanied her everywhere! The "real" Peter Rabbit was said to do tricks, including jumping through hoops, playing the tambourine and ringing bells. No wonder he inspired her to create the cheeky Peter Rabbit character! Beatrix also had a rabbit called Benjamin Bouncer, who enjoyed buttered toast and went for walks on a lead. He was the inspiration for Benjamin Bunny in her stories. She also had a hedgehog called Mrs Tiggy-Winkle, who became a beloved character in her stories too.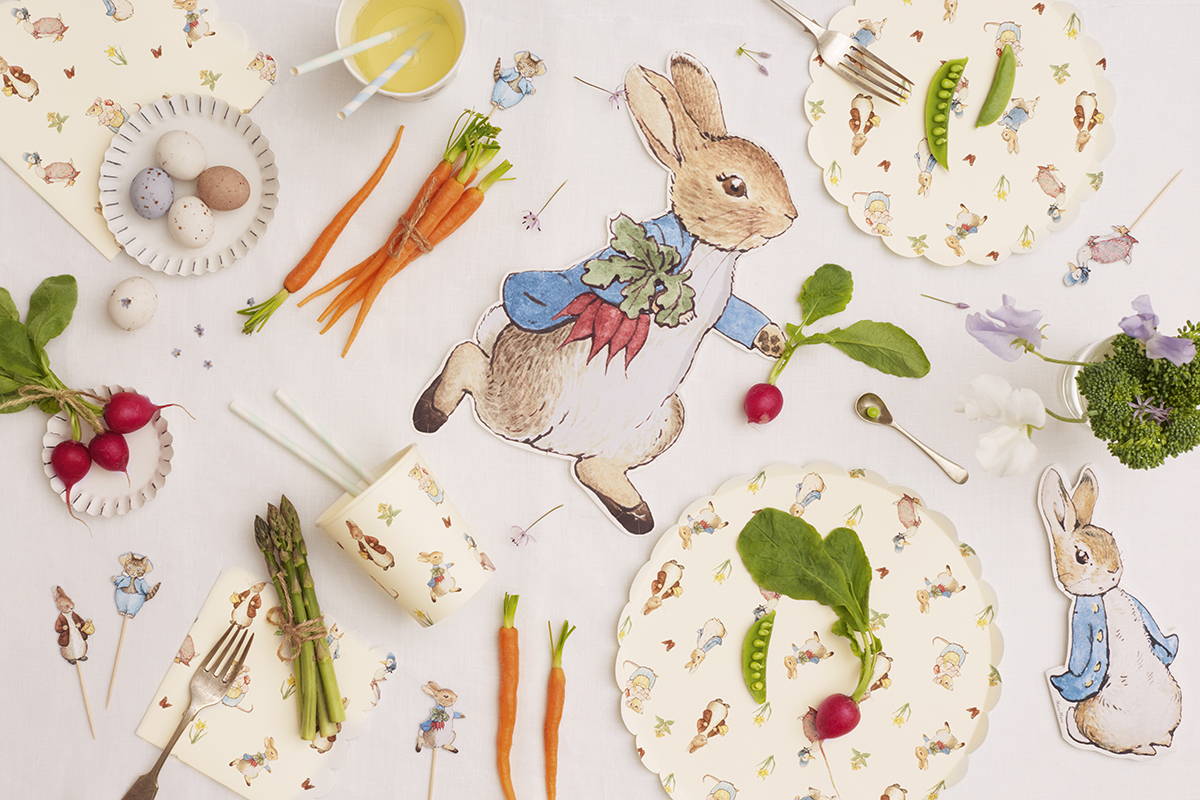 3. The Inspiration for The Tale of Peter Rabbit

The Tale of Peter Rabbit was inspired by an illustrated letter Beatrix wrote to a little boy, Noel Moore, who was ill in bed at the time. The letter described four rabbits – Peter, Flopsy, Mopsy and Cottontail, and their mother. She illustrated the letter with sketches, which the boy adored. His mother Annie suggested Beatrix turn them into a book, which she did. Her family and friends thought it was wonderful and so she decided to seek a publisher for it.
4. Success didn't happen straight away



The Tale of Peter Rabbit was rejected by six publishers. Beatrix therefore published it herself. Her story of self-belief, imagination and determination is an excellent example to never give up your dreams! The book sold so well that Beatrix asked the publishers Frederick Warne & Co to reconsider publishing it, this time in colour. They did so in 1902 and by the end of its first year in print, it had sold 20,000 books. Beatrix became engaged to her editor, Norman Warne, although sadly he died before they could be married. She married solicitor William Heelis in 1912 when she was 47. Beatrix never forgot Norman though, and wore his ring on her right hand for the rest of her life.
5. Peter Rabbit is the oldest licensed literary character



When Beatrix realised how popular Peter Rabbit had become, she designed and sewed a doll version of him. She patented this doll, making him the world's oldest licensed literary character. He was then followed by a series of tea sets, games, wallpapers, figurines, clothing and blankets. This helped him become the popular bunny he is today – even loved by the British royal family (Prince George's nursery was decorated with a Beatrix Potter theme, and his mother, Kate Middleton, is distantly related to Beatrix).

Here at Meri Meri we're delighted to have an extraordinary range of Peter Rabbit and friends' party supplies, including plates, cups, napkins, mini cookie cutters, a garland, stickers and an Easter egg hunt kit.
6. Walt Disney wanted to make an animated Peter Rabbit film



Walt Disney wrote to Beatrix and asked if he could make an animated version of her Peter Rabbit. She refused. No one is exactly sure why, but it is believed she wanted to remain in control of her characters. Others suggest she didn't think her animated drawings were good enough for large-scale animation and that if they were enlarged, their imperfections would be illuminated.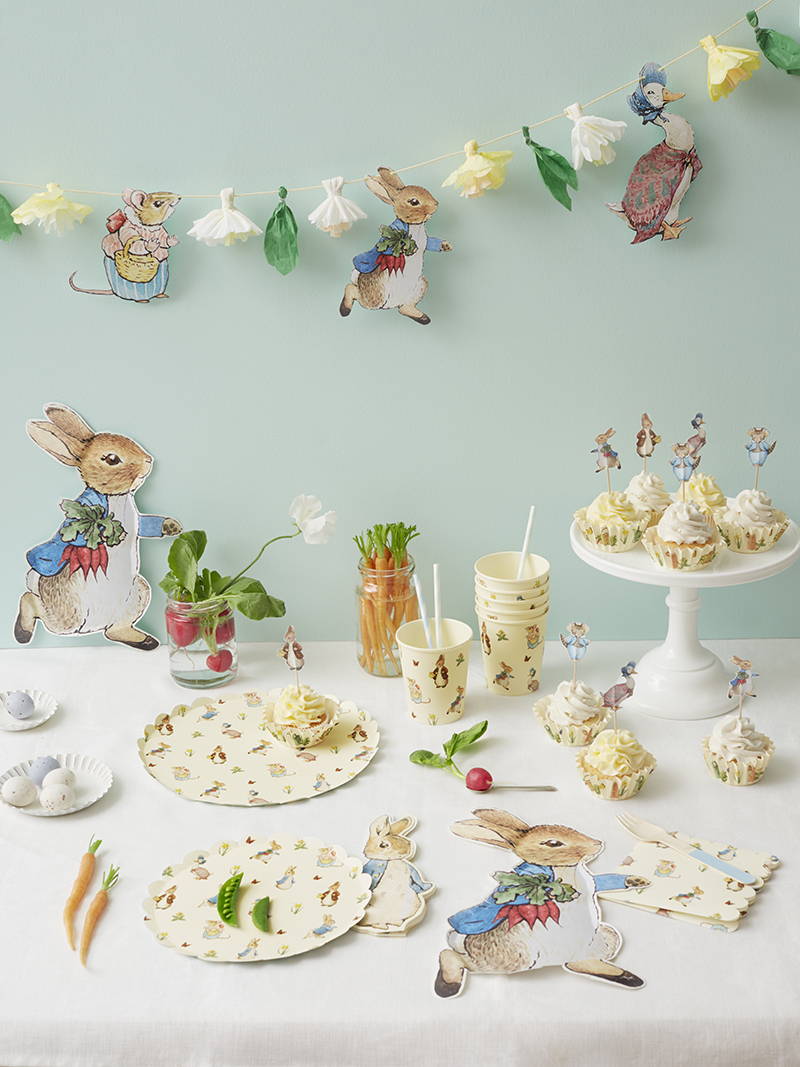 7. Peter's Favorite Food

Did you know that Peter Rabbit is actually munching on a radish, not a carrot, in Beatrix's famous illustrations? He also has a love for carrots though, as every bunny does!
8. Why is the UK's Lake District featured in Beatrix Potter's tales?



Childhood holidays had sparked a love affair with the beautiful Lake District. She used the royalties from her initial success to buy a small farm called Hill Top in the Lake District, then over time bought other farms and land in the area. The Lake District was a major influence on her writing, with many places in it as settings for her tales. At the time of her death in 1943, aged 77, Potter left 15 farms, 4,000 acres of land, and numerous Herdwick sheep, all of which she passed on to Britain's National Trust so others could enjoy them. The Trust opened Hill Top Farm to the public in 1946.

Take a peak at our Peter Rabbit partyware, table decor, baking and gifting range.
Paper doll perfection Part 4 – Introducing Carolyn
Looking for fun craft activities for your little people? Our talented designers have crafted amazing paper dolls for everyone to enjoy. They're based on our beautiful best-selling fabric dolls. They've also designed gorgeous clothes and accessories for the dolls, for stylish looks and activities.
This week we're delighted to present the free download for Carolyn. Have fun!
---
---